Last fall I came across a book by Ann Voskamp,
One Thousand Gifts,
and from the description provided alone I pre-ordered it. I am so glad I did because this book, now on the New York Times bestseller list, is changing lives including mine.
I have started my own gratitude journal, my own version of
Polyanna's
glad game. It's a way to center me in these full, intense days of raising 5 boys 5 and under (4 the same age). It's a way for me to stay focused on the joy, the present, the gift He has given me.
1. a life encompassing all things boy
7. lightening up
11. a son's intent to save the world
13. tears while writing heartfelt words
14. a husband deep in the trenches with me
18. 5 boy wonders
19. a toothless grin
21. E's rendition of "Here Comes the Sun"
25. the gentle reminder that tomorrow is a day filled new again with His blessings and joy if I am only open to receive them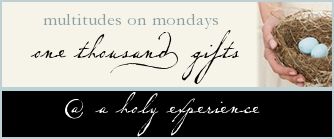 Not only am I starting a gratitude journal, but we are focusing more on gratitude as a family and I will share soon. I hope it will help us as parents and our boys to grow our family roots deeper and stronger. In my heart I cannot come up with anything more meaningful to give your children, especially in this world, than the ability to slow down, take it all in, cherish, savor, bond, and grow their little souls.